Weekly stories are first featured in our Newsletter. Subscribe here to receive it directly in your mailbox every Monday.
It is not easy to start new technological trends in the time when climate change has become a painful reality.
While very few people question the environmental impact of the existing services like their Facebook account, NFTs together with the larger blockchain ecosystem are constantly being accused of wasting electricity.
The debate is changing though, as more use cases demonstrate the importance of cryptoassets – and notably in our fight against the climate change.
NFTs have proven themselves a great tool for attracting public attention and raising funds for good causes, and the NFT community deploys an incredible amount of energy and creativity to generate positive impact. Moreover, the very fact of creating value in the virtual is helping to switch people's attention from tangible to non-tangible assets, unburdening the planet.
Last week D.Center had a chance to assist to a gathering of the French NFT community organized by NFT Factory, an association of the industry's most prominent actors with a mission to evangelize the NFTs and foster their development.
The theme of the day was NFT Impact, and we would like to share its insights with you.
NFTs to fund environmental projects
Many commercial NFT projects are conceived with a positive impact in mind, like the World of Women, which promotes gender equality. However, a big number of NFTs are created specifically to generate positive impact.
Most often such projects collaborate with artists to create thematic NFTs, with the proceeds from their sale split between the artist and a selected NGO.
Inna Modja, a Malian-French singer, activist, and the UN Land Ambassador, spoke about the Great Green Wall – an ambitious reforestation project of one of the most arid regions on Earth – African Sahel – aiming at combating the advancement of the desert and improving lives of local communities. Started 15 years ago, the Great Green Wall is 15% underway, but to complete all 8'000 km of it, the project needs constant public attention and support, and the NFTs can play an important role in maintaining it.
CodeGreen, launched by Inna Modja, is an NGO with a mission to leverage NFTs to yield positive impact on the planet; one if its first actions was a collaboration with the World of Women, raising funds for the Great Green Wall.
Another interesting project presented at NFT Impact was Oregen Earth, aiming at promoting biodiversity. Its first NFT collection is dedicated to the chimpanzees, with the proceeds from their sale going to the Jane Goodall Institute's wildlife protection project in Burundi.
NFTs can also be a great means for companies to show their environmental engagement, like did Guerlain with its Reaverse project: all the proceeds of the sale of 1828 "Cryptobees" NFTs matching the 1828 parcels of the Millière Valley were invested in the renaturalization of this nature reserve. The project saw light notably thanks to MNSTR NFT, a French brand strategy agency that has understood the power of the NFTs.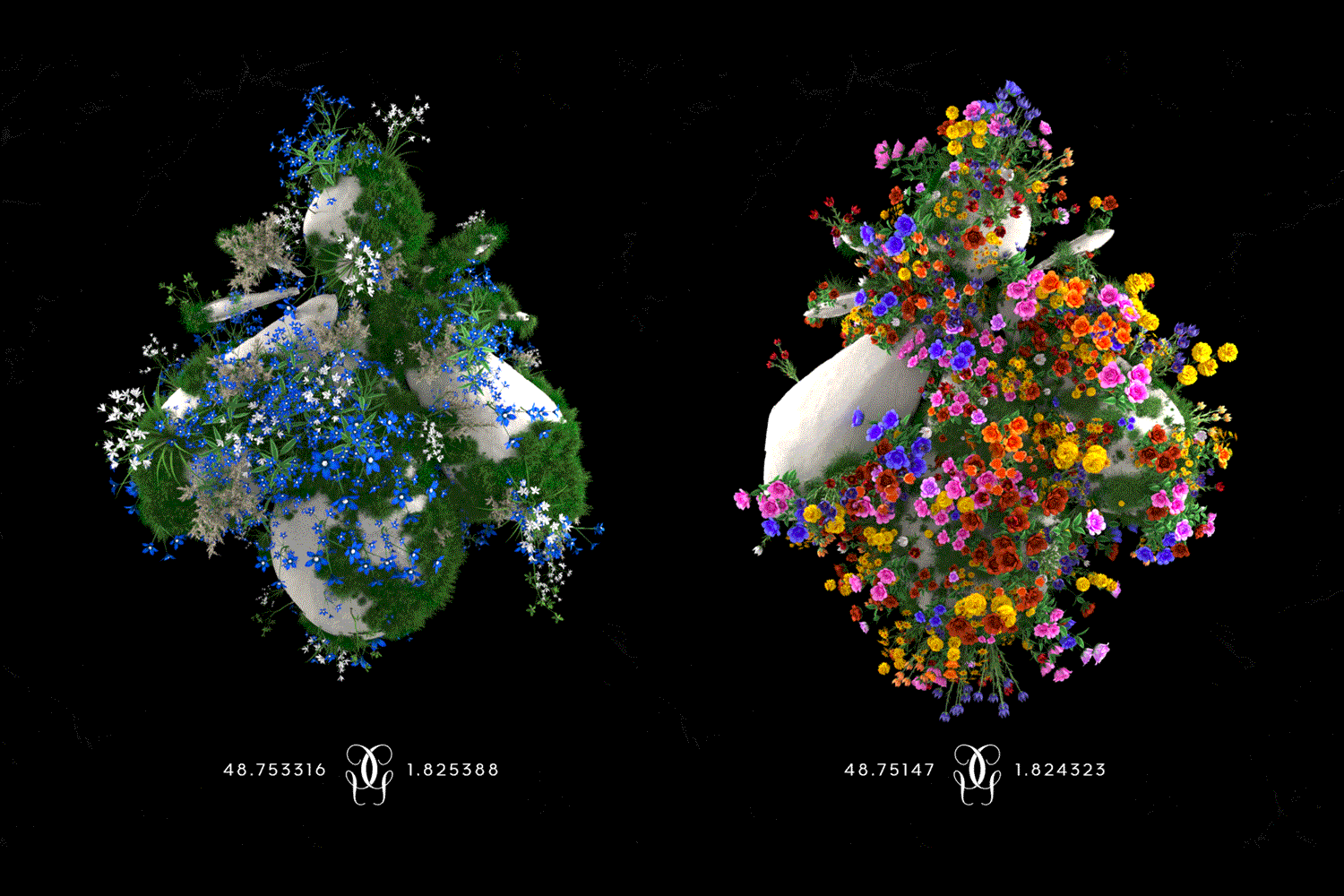 Carbon offsetting can be reinvented in the web3 too. This practice, intended to make it easier for the companies to try and compensate at least a part of their carbon footprint, consists in converting CO2-capturing projects, like planting trees, in easily tradeable assets. However, it is rather difficult to finance reforestation projects before their carbon offset certification – a problem that companies like Carbonable solve with NFTs. What's more, NFTs being part of the larger cryptoasset family, it is possible to plug them into a DeFi mechanism that would generate yields, and that's what Carbonable is planning to do.
NFTs for material sobriety
Yacine Ait Kaci, founder of Elyx Foundation, showed how important web3 can become in switching from tangible to non-tangible economy.
Indeed, while it may be impossible to persuade us humans to buy less things (our brains are wired for seeking pleasure ?), we can encourage more of these things to be virtual – and NFTs, web3, the metaverse… they all help creating more immaterial value.
When we'll enjoy our new NFT sneakers as much as we enjoy our real-life ones, we'll be able to cut our material purchases (and the environmental harm that goes with them) significantly – and this trend is already underway.
Elyx is a digital ambassador to the UN, and as such, it aspires to use digital and, more specifically, web3 tools to promote UN Agenda 2030, educating and helping companies create positive impact.
Investors do care
Investing with an impact is an always welcome bonus for any venture capital firm, and crypto VCs are no exception.
In fact, the very web3 sector already comes with an impact – empowering users, giving them control over their data and their money. However, the investors who have spoken at the NFT Impact – Aglae Ventures, PyratzLabs and Snaw – did confirm that many web3 projects are now conceived with more positive goals, like promoting gender justice, climate action, inclusivity…
Thousand Faces is a good example: created by a female team, the project leverages crypto to create an easy-access investment community with a focus on female empowerment and ecology.
NFTs can be used in a myriad of creative ways to stimulate investments into environment. One of the examples of such creativity was presented by Primavera de Fillippi from the Berkman Center for Internet & Society, Harvard University. Imagine an NFT representing a natural resource – a river, for example, and evolving together with it. If the river is clean, the NFT is nice and shiny, and if the water quality degrades, the NFT's image gets blurry. The worse off is the resource, the bigger percentage of its NFT's sale/resale proceeds goes to a relevant NGO, and if nothing is done and the indicators have fallen below a certain threshold, the NFT self-destructs, destroying the attached economic value.
What about NFTs' carbon footprint?
Only very lazy newspapers have not yet declared NFTs "anti-ecological", with many trying to calculate the amount of energy per NFT, disregarding how incorrect such approach is and, most importantly – what these NFTs help achieve and what existing practices they intend to replace.
A very interesting panel with digital artists Jaen and Denis Santelli has shed more light on digital art NFTs vs traditional art, raising questions people often omit. Like, for example, the ecological hazards of the acrylic paint: if not disposed properly, the heavy metals it contains can pollute water streams and affect aquatic environments. Or the carbon footprint of a physical painting that is flown to expositions all over the world (the more expensive the painting, the more exclusive its airplane ticket…)
Guess what: NFT art does not require neither toxic paints, nor physical shipment ?
Most NFTs exist on Ethereum, and its imminent Merge with the Beacon chain, which will change its consensus from the energy-hungry Proof-of-Work to more frugal Proof-of-Stake will hopefully pull the NFTs out of the flawed ecological debate around crypto. However, for the sake of argument, we should always compare the new tech with the concept it replaces.
NFT Impact day happened to coincide with a harsh heat wave, with the temperature in Paris exceeding 40° C and severe forest fires ravaging the South of France for many days. Climate change is here, and it so happens that NFTs, web3 and crypto in general can help us try and stop it, provided that we can have an honest debate and understand their potential.
NFT Factory now plays a role in this debate.